How to Write an Application Letter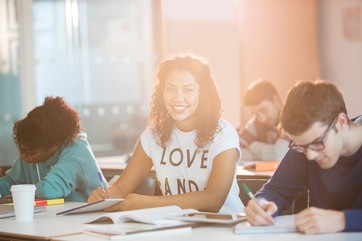 The process of writing an application letter proves to be pretty long and painstaking. However, at the end of it you will be satisfied with the achievements you have gained. The admission committee will examine your paper carefully, so you need to be very motivated and informed about how to write an application letter. Do not underestimate this task - it can influence your future.
The main goal of the application letter is to demonstrate that you are the right applicant for the particular university. More and more people are applying for universities around the world. Tertiary education is becoming more popular, and in some sense, less valuable. Nowadays, it becomes more important where you have graduated from, and not the fact that you have a bachelor degree or a master degree. Thus, you should be motivated to apply to more prestigious universities and studies.
What is an application letter?
An application letter is a specific paper which is written only according to the given context. It contains several mandatory parts, and should be written only in accordance with the other documents you submit during the application process.
Writing an application letter - 10 essential tips 
1. Talk to your English teacher or school counselor
You should talk about the basic principles of writing an application letter. However, do not rely only on them, on your friend's advice, or your parents' instructions. You are the only one to decide about your career.
2. Introduce yourself briefly in the application letter
Avoid going into biographical details or stories. Write about your interests and hobbies. It is the place to write about your activities at school: pay particular attention to your favorite subjects, and to the extracurricular activities you have participated.
In application letter avoid going into biographical details or stories. Write about your interests and hobbies. Pay particular attention to your favorite subjects, and to the extracurricular activities you have participated.
Tweet This
3. Write about your personal traits
For instance, responsibility, leadership, team work, punctuality, and time management; do not forget about academic skills - they concern carrying out experiments, doing research, article writing and reviewing, etc. How have you developed these skills?
4. Now it is time for your achievements
Have you been awarded any prizes, awards, or grants? If yes, then describe only the most important ones (those which are directly connected with your desired professional career). Explain the following details: name of the award, year, committee/organization/institution that awarded it to you, academic (or other) field. Attach the certificates to your documentation.
If you do not have any of these, then you probably still have some achievements such as participation in drama plays, voluntary work, etc. Remember that sometimes the activities one takes part in do not receive recognition very fast.
5. Say a little about your career plans
What would you like to do after graduation? Do you want to be an academic instructor or researcher? Or you prefer being a practitioner? Here you should show that you are well-informed about the opportunities which the particular study offers to you.
6. Explain and motivate your choice of study
When has the idea for this particular study come to your mind for the first time? How are your achievements at school related to your plans?
7. Try to keep the balance between your plans and your achievements
Do not boast about what you have done in the past; at the same time, you should not be too shy. Show your self-confidence and make the committee certain in your skills and competencies.
8. Proofread your application letter
Having written the application letter, give it to some of your teachers or school counselor to read it. Use their advice and revise the letter accordingly.
9. Prepare yourself for the interview
Some of the questions will concern your application letter. This is to check that you have really written the paper by yourself.
10. Do not fall in despair if the admission committee rejected your application
Life goes on, so search for other opportunities! Don't give up!
Place Order Now