How to Write a Scholarship Thank You Letter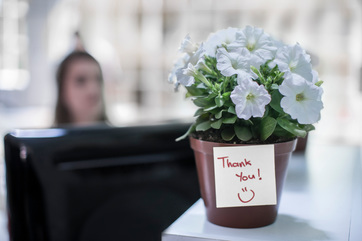 In this world full of opportunities we, very often, forget to reflect more on the success we have, or on all our materialized dreams. Not everyone has a possibility to become what they are eager to be. There are many factors which could prevent one from doing what they want in this life. For that reason everyone who has been awarded a scholarship, particularly at school level, should be thankful. You should know that people are not obliged to give you financial support, and that this is an outcome of generosity as well as of awareness how important a scholarship is for the personal development of gifted young people.
Writing a scholarship thank you letter is not absolutely required. It is a matter of politeness to decide whether to write it or not. We strongly advice you writing it, because you never know, maybe the same sponsor will help you again in the future. Businessmen have very special attitude when it comes to ethics: they expect to receive something, although they do not express it explicitly. Since you are not dealing with any business, your "contribution" could be sincere thankfulness for what they have done for you.
How to write a scholarship thank you letter – 5 key tips
1. Scholarship thank you letter format
Format your scholarship thank you letter according to the standards for formatting business letters. Always address your sponsor and never forget to write your name and to sign it, with all personal data required (your address, e-mail, phone). Speak with your teacher about this. Having finished the letter, handle it over to them in order to check the formatting and the style of the letter (provided that you are not very confident in your writing).
2. Introduce yourself in short
Tell a little about your personal occupation and interests; personal achievements (awards, prizes, school grades, and everything else you conceive achievement). Be careful not to boast too much; be realistic and write only about what you have really achieved. Perhaps you wonder why you need to write about yourself - the sponsor has already chosen you, therefore, they know about your interests and achievements. You have to know that financial donors do not select their scholarship holders alone. Usually, they have assistants who deal with that. At any rate, your sponsor has probably dealt with dozens of scholarship applications within the last year, so it is not necessary to remind them who you are and why are you thankful to them.
3. Tell about the reasons to ask for the scholarship
Write the scholarship name if there is such. Two reasons are enough here. Then continue your scholarship thank you letter by explaining how you will use the financial subsidy. You can refer to the following things: 
Money for books and other reading materials.


Money for access to online database/s (if your local library does not have such access to the particular database). Buying specialized software (mathematics, physics) is also included here.


Money for technical equipment - laptop, printer, telescope.


Money for participation in conference/s (for transportation, accommodation, food, participation fee).
4. Conclusion of the scholarship thank you letter
Conclude your scholarship thank you letter by expressing thankfulness again - this could be your personal motto in life, or a philosophical sentence you like the most. Tell your financial donor that you are ready to help them with anything concerning your field of specialization (literature, natural sciences, sport, etc.).
5. Send the letter
It should be sent not later than two weeks after you have been awarded the scholarship. In business relations it is always important to respond on time.
The instructions presented above will shed some light on how to write a thank you letter for scholarship. Writing such a scholarship thank you letter, let's say it again, is not a must, but it is very polite to do it. Hence, don't hesitate - write it carefully and put all efforts you can in order to write an exquisite letter. 
Place Order Now