How to Write a Personal Statement for a Scholarship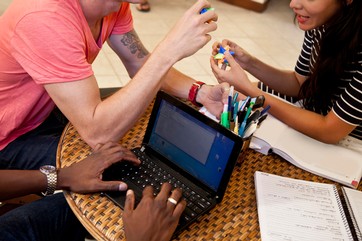 There are plenty of myths and popular fallacies concerning the way in which one should write their personal statement for a scholarship. Such a statement is a kind of manifestation of your true personality; hence, it is far from easy to give a "formula" for writing a perfect personal statement. The best way to work on it is to read a few other papers of this type, and get prepared gradually. Let's briefly examine some important points.
Myths
There are three myths preventing the applicants from writing a good personal statement:
Myth 1
A personal statement merely re-states the data and information found on your application documents. What is wrong here is that it completely distorts the idea of writing such a paper. You should make references to your documents while writing (your diploma transcripts, certificates, recommendations, etc.), but these do not exhaust your personal statement. On the contrary, they are only of secondary importance.
Myth 2
What you need to do is merely to "sell" yourself. Definitely wrong! A personal statement resembles advertising, but it is more than that as well. You do not hyperbolize your skills and competencies, but rather underline your personal strengths. This is an entirely different thing than advertising.
Myth 3
It is easy to write a personal statement for a scholarship application, you could do it within two or three days. Wrong! The process of writing your personal statement begins when you realize what your educational and career plans are. Therefore, it may start two years as well as ten days before the application deadline. Preparation is the key to a good essay. Think carefully, discuss with your friends, parents and teachers, and choose your field of study. Then immediately start preparing your application documents.
How to Write a Good Personal Statement for a Scholarship
Tip 1
Prove each of your assertions concerning facts (school grades, extracurricular activities, volunteering, awards, and so forth). Attach the relevant documents to your application.
Tip 2
Divide the essay into four main parts: biography, career plans, academic achievements, personal skills and competencies. Your essay should flow, the parts must be logically (not mechanically) connected. Be concise and give the reader relevant information only.
Tip 3
Tell about your background: life experiences, expectations, financial difficulties, social exclusion, etc. This information may be used within the context of your current life and career plans. Don't explain too much, or don't get into details. All that the committee wants to know is how you relate your needs to your academic and personal potential.
Tip 4
Be original. Your text should be easy for understanding, and at the same time to stand out amongst the others. You may use several metaphors or other figures of speech in order to demonstrate artistic skills and ability to express your personal feelings and thoughts.
Tip 5
Be honest and clear. Don't exaggerate, and at the same time don't underestimate your achievements. In order to meet this criterion, you can ask a friend to check your text for more objectivity. Furthermore, always be personal: write about yourself. You are now in the limelight.
Having written your statement, you must keep a copy of it (and all other documents, of course). You should also proofread it carefully (not only for proper grammar, but also check if it sounds convincing and whether its parts are coherent). Don't fall into despair if rejected: life will give you many opportunities to demonstrate your skills and receive full respect and recognition. 
Place Order Now