The 100 Best Books For College Students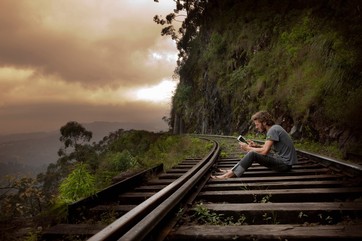 Below we have come up with a list of 100 best books for college students to get through college, achieve your dreams, and learn to be a grown-up.
1. Things Fall Apart by Chinua Achebe
It is one of the first African novels translated into English and provides a valuable indictment of colonialization, giving voice to a population whose story must be told.
2. The Hitchhiker's Guide to the Galaxy by Douglas Adams
It is a funny, complex story about what happens when an ordinary man gets pulled into the world of sci-fi, and how to manage meeting people who are unlike anyone else you've ever met.
3. Lucky Jim by Kingsley Amis
It is about the ridiculousness of academia from the perspective of professors, and a poignant reminder that professors have real, human experiences, as well.
4. Beowulf (by Anonymous)
It is not only one of the best-known epic poems of all time, but it introduces readers to the framework of the hero myth, which is the foundation of the vast majority of literature.
5. Pride and Prejudice by Jane Austen
It shows readers that class conflicts have always occurred, even if they were much more reserved in the early 1800s, and how preoccupations with appearances and societal expectations impact the lives of people stuck in the middle of the conflict.
6. Everyman (Author Unknown)
It is a morality play from the Middle Ages in which every man must die and seek a companion to join him, providing not only insight into Medieval society, but a framework for self-examination.
7. The Handmaid's Tale by Margaret Atwood
It shows a world in which radical conservative Christianity has restructured society, and its impact on people not in control.
8. Giovanni's Room by James Baldwin
It is the story of a man who moves to Paris and his relationship with Giovanni, an important work providing insight into the complexities of identity, and what some people must do – and sacrifice – for love.
9. Fahrenheit-451 by Ray Bradbury
It tells the story of a dystopian society in which literature is outlawed, showing students the importance of culture to humanity, especially literature.
10. Jane Eyre by Charlotte Bronte
It is the quintessential Gothic romance and coming-of-age story of an orphan who has no choice but to grow up and keep moving forward, giving insight into coping with trials and what it means to become an adult.
11. Adulting: How to Become a Grown-up in 468 Easy(ish) Steps by Kelly Williams Brown
It is a great resource for any college graduate who still feels like a student.
12. A Clockwork Orange by Anthony Burgess
It is an examination of criminal reform, and what happens when the government allows cruel and unusual punishment for crimes.
13. Quiet by Susan Cain
It is a non-fiction work exploring what it means to be an introvert in a world focused on extroverts and how to use the power of introverts for success.
14. If on a Winter's Night a Traveler by Italo Calvino
It is an unconventional meta-narrative about two men racing to finish a book, and the struggles of one of the men as he tries to complete the task.
15. The Artist's Way by Julia Cameron
It is a twelve-week self-examination to help readers integrate their creativity into their everyday lives because graduating and getting a job doesn't have to mean giving up creativity.
16. The Stranger by Albert Camus
It is a look into the mind of a man both before he kills another man and while he awaits his execution, showing the harrowing effects on the human mind.
17. The Amazing Adventures of Kavalier & Klay by Michael Chabon
It is written where the whimsy of childhood dreams meet the realities of adulthood.
18. The Canterbury Tales by Geoffrey Chaucer
It is a brilliant character study from Medieval society, satirizing religious devotion and society in an age frequently glamorized in history.
19. Between the World and Me by Te-Nehisi Coates
It gives a vivid account of what it means to be black in the United States, bringing into focus the rationale behind the Black Lives Matter movement and other experiences of African-Americans today.
20. Disgrace by J. M. Coetzee
It is a story of deep prejudices and what people must do to survive in the face of them.
21. The Hunger Games by Suzanne Collins
It tells the story of a rigid society ruled by the elite, the traumatic steps the government will take to maintain control over the masses, and what happens when people rise up against injustice.
22. Heart of Darkness by Joseph Conrad
It uses the framework of the ivory trade to examine humanity, civilization, and what it means to be savage.
23. The Divine Comedy by Dante
It is the well-known examination of the circles of hell, giving a perspective of Christianity during the Middle Ages and revealing the way aspects of society, such as religion, permeate other aspects of society, such as literature.
24. Origin of Species by Charles Darwin
It is the foundational work in science and evolution, and important for an understanding of scientific thought today.
25. The Brief Wondrous Life of Oscar Wao by Junot Díaz
It examines the experiences of a Dominican-American family, fighting a family curse, and overcoming obstacles to achieve personal dreams alongside the American dream.
26. A Tale of Two Cities by Charles Dickens
It explores the conflict between upper and lower classes and the brutality of the French Revolution, giving readers insight into the history of the time as well as the implications of class conflicts.
27. Slouching Toward Bethlehem by Joan Didion
It is a collection of essays about California in the 1960s and what it means to be a flower child.
28. The Marriage Plot by Jeffrey Eugenides
It follows three Brown University graduates, providing insight into life after graduation.
29. The Virgin Suicides by Jeffrey Eugenides
It is the story of four sisters who commit suicide as told by a group of boys whose outsiders' view paints a very different picture of femininity, adolescence, and suicide.
30. The Great Gatsby by F. Scott Fitzgerald
It emphasizes the clashes that arise out of class differences, and shows how the unrelenting pursuit of the American dream, or any dream, can change a person.
31. Man's Search for Meaning by Viktor E. Frankl
It tells the story of a man devastated by his experiences in a concentration camp and how those experiences shaped the man he became afterward.
32. Big Magic by Elizabeth Gilbert
It celebrates the creative process, reminding readers that life is about more than lectures and term papers.
33. Herland by Charlotte Perkins Gilman
It is the story of three men whose expedition leads them to an all-female society, and the influence their very presence, and gender relations, has on the peaceful and well-established community.
34. The Yellow Wallpaper by Charlotte Perkins Gilman
It is the story of an unreliable narrator who is diagnosed with hysteria by her physician husband, and what happens when women are marginalized and tucked away.
35. Howl by Allen Ginsberg
It is the seminal work by the seminal beat poet, exploring the idea of genre and form for anyone who has felt locked in by what "should" be done.
36. Memoirs of a Geisha by Arthur Golden
It follows the life of a geisha from childhood, examining the complexities of Japanese society, and what people must endure to survive.
37. Lord of the Flies by William Golding
It isn't just a story about a group of boys on an island after a plane crash, but provides a microcosm examination of the evolution of society, leadership, and the impact of power on people and their decision-making.
38. A Brief History of Time by Stephen Hawking
It is a seminal and integral work by the brilliant scientist, attempting to provide a layman's explanation of astrophysics.
39. Catch-22 by Joseph Heller
Set during World War II, it is a satirical work about war, the military, and what people must do to get through the most difficult of experiences without losing their minds.
40. The Old Man and the Sea by Ernest Hemingway
It tells the story of a fisherman, narrating man's struggle with nature and self through masculine themes in the context of the story.
41. Siddhartha by Hermann Hesse
It follows the experiences of a man on a journey of self-discovery during the time of Gautama Buddha, a valuable read for anyone trying to figure out just who they are.
42. All About Love by Bell Hooks
It is an examination of the role of love in people's lives, how culture has distorted its meaning, and how to find love despite the distortion.
43. The Kite Runner by Khaled Hosseini
It is the story of a father and son, crossing cultural lines to show the importance of family and what happens when people feel they do not do all they should for their family members.
44. Their Eyes Were Watching God by Zora Neale Hurston
It is an account of love and life for an ordinary African-American woman living in the south during the Harlem Renaissance.
45. Brave New World by Aldous Huxley
It challenges readers to examine the role of government in their lives and just how much control is too much.
46. The Haunting of Hill House by Shirley Jackson
It is a frightening story that eschews horror to scare, instead focusing on terror and what scares the psyche to get a reaction, making it an interesting examination of the psychology of fear.
47. Portrait of a Lady by Henry James
It is the story of an idealistic girl who transforms into a woman stuck in a miserable marriage, and just how she got that way.
48. The Phantom Tollbooth by Norton Juster
It is the story of a bored boy who discovers a tollbooth in his bedroom and the adventures he goes on with the guidance of a watchdog named Tock.
49. The Metamorphosis by Franz Kafka
It is the story of a man who turns into an enormous bug, using the fantastical story to highlight the lengths people go to in order to sacrifice their own needs and desires to make life easier for others.
50. On the Road by Jack Kerouac
It is the quintessential work of prose from the Beat Generation, following Kerouac and his friends in their travels across the nation and their search for a place in the midst of feeling like outsiders.
51. One Flew Over the Cuckoo's Nest by Ken Kesey
It explains the conflicts within a psychiatric hospital, particularly at the hands of the sadistic Nurse Ratched, focusing on Patrick McMurphy, who faked his mental illness to avoid a prison sentence.
52. On Writing by Stephen King
It explains the writer behind the horror stories, giving valuable insights even if you're not an English major.
53. Interpreter of Maladies by Jhumpa Lahiri
It is a collection of short stories that examine the experiences of a woman seeking to honor her heritage while she adapts to her new life.
54. The Art of Happiness by the Dalai Lama
It uses interviews with the spiritual leader to understand happiness and how to achieve it.
55. Furiously Happy by Jenny Lawson
It is an irreverent and taxidermy-filled look at a life punctuated by depression and anxiety, and how to use those experiences to fuel a life full of joy.
56. Left Hand of Darkness by Ursula K. Le Guin
It is the story of an emissary to an alien world, using the science fiction framework to explore the fluidity of gender and how people react when their values and beliefs are challenged by another culture.
57. Go Set a Watchman by Harper Lee
A sequel to Lee's seminal To Kill a Mockingbird, it is not only the perfect story of reminiscing about childhood, but also a story of what happens when childhood ideas of who people are change when adulthood gives a new perspective.
58. To Kill a Mockingbird by Harper Lee
It uses the youthful narrator to tell a story of justice and the importance of standing up for what is right, especially when others are standing against you.
59. The Golden Notebook by Doris Lessing
It is a story of self-examination, self-reflection, and an attempt to find cohesion in a seemingly disconnected life.
60. The Giver by Lois Lowry
It examines a society in which perfection is achieved and forces the reader to ask what cost is acceptable to achieve peace in society.
61. One Hundred Years of Solitude by Gabriel Garcia Marquez
It is the story every college student should read to remind them of the importance of family and friends.
62. Life of Pi by Yann Martel
It is the story of a teenage boy who survives a shipwreck in a small boat with only a tiger for a companion, and the importance of trust and finding common interests to survive.
63. The Color of Water: A Black Man's Tribute to His White Mother by James McBride
It examines McBride's experiences with a white mother who would not admit she was white, and what it means to be multiracial in American society.
64. Angela's Ashes by Frank McCourt
It tells the story of Frank as he grows up in poverty in Ireland, and the sacrifices made by his mother to protect her children in a tragic life.
65. Bartleby, the Scrivener by Herman Melville
It is an intriguing tale of a clerk who simply does not want to work, and the boss who must live with the guilt of feeling he did not do enough to help.
66. Paradise Lost by John Milton
It takes the reader into another realm, giving insights into Lucifer's perspective on humanity, life, and death.
67. Beloved by Toni Morrison
It explores the experiences of a freed slave and her family in the compelling, Pulitzer Prize-winning voice of Toni Morrison.
68. The Bluest Eye by Toni Morrison
It tells the story of a young black girl who wishes fiercely her eyes could be blue, bringing into focus the impact of white beauty standards on society and the importance of identify and self-acceptance.
69. The Things They Carried by Tim O'Brien
It is a novel-in-stories focusing on the experiences of the author surrounding the Vietnam War, adding humanity to the war, including what happened to soldiers after they returned home and tried to get on with their lives.
70. A Good Man is Hard to Find and Other Stories by Flannery O'Connor
It is a collection of short stories that examine true humanity in a Southern Gothic style of writing.
71. 1984 by George Orwell
It focuses on the concept of "big brother" and what it means to allow government control, which is particularly relevant in an age of smartphones and social media shared almost constantly.
72. Haunted by Chuck Palahniuk
It is the story of sixteen writers locked in a theater and told to write their masterpieces, and the result is an inward spiral of stories as the authors attempt to hold on to their sanity by a thread.
73. The Last Lecture by Randy Pausch
It is a transcript of Pausch's final lecture as a computer science professor at Carnegie Mellon after his diagnosis of terminal cancer, giving his perspective of life and following your dreams.
74. The Bell Jar by Sylvia Plath
It follows the tragic experiences of Esther Greenwood as she struggles to survive under the oppression of depression and a desire to end her life.
75. The Little Prince by Antoine de Saint-Exupéry
It is the ultimate children's book written for grownups, using the framework of a simple story to teach life lessons.
76. Catcher in the Rye by J. D. Salinger
It tells the story of Holden Caulfield, an unreliable narrator navigating adolescence and trying to make sense of his experiences just as college students are trying to make sense of their own experiences.
77. Lean In: Women, Work, and the Will to Lead by Sheryl Sandberg
The CEO of Facebook examines what it means to be a woman in today's business world, and how to navigate the business world to achieve success and greater equality.
78. Hamlet by William Shakespeare
It is a story of revenge and family, and is one of Shakespeare's most popular and influential works.
79. Frankenstein by Mary Shelley
It tells the story of the responsibility of creation and sets the stage for the whole of the horror genre to come after it.
80. Balzac and the Little Chinese Seamstress by Dai Sijie
Set in the era of Chinese re-education, it follows a boy who smuggles Western literature into a tiny village where he shares the value of education and culture while he is taught how to grow up.
81. The Jungle by Upton Sinclair
It exposes the sometimes appalling conditions of the meat-packing industry in the early twentieth century, explaining the importance of regulations and why the ends do not always justify the means.
82. Freedom Feminism: Its Surprising History and Why it Matters Today by Christina Hoff
Sommers provides a look at the history of feminism frequently overlooked and puts its history into focus to highlight its importance today.
83. Maus: A Survivor's Tale by Art Spiegelman
It is the story of a Jewish man and his son, survivors of Hitler's regime, a cartoonist struggling to come to terms with the history of his life and his family.
84. The Grapes of Wrath by John Steinbeck
It is one of the most poignant tales of the American dream set against the unforgiving backdrop of the Great Depression.
85. The Help by Kathryn Stockett
It is not only the story of race in the Deep South in the 1960s, but also a story about the importance of education about race, and what must be done to create true equality in the United States.
86. Uncle Tom's Cabin by Harriet Beecher Stowe
It is well-known as the novel that laid the foundation for the Civil War and the abolition of slaves in the United States.
87. Elements of Style by Strunk and White
It is the essential writing guide for college students, providing tips and lessons in a slim, portable reference book.
88. The Secret History by Donna Tartt
It examines life in college, reminding readers that student life can be lonely and cliques exist, helping them focus on what's important and how to ensure that a social life is part of their college experiences.
89. Vanity Fair by William Makepeace Thackeray
It is not an ordinary romanticized look at culture in the 1800s, but a scathing story of the manipulative social climber Becky Sharpe, the lengths she'll go to in order to get ahead, and what happens when your own success is put ahead of everything else.
90. Fear and Loathing in Las Vegas by Hunter S. Thompson
It is another look at the American dream, but through the haze of drugs in the aftermath of the 1960s counterculture movement.
91. The Lord of the Rings Trilogy by J. R. R. Tolkien
While famous in part because of the films, it is a foundational story for the fantasy genre.
92. Breakfast of Champions by Kurt Vonnegut
Through the framework of the experience of Kilgore Trout coming to an Ohio town to give a keynote address, it examines major societal themes including mental illness, violence, and the way society treats marginalized people.
93. The Color Purple by Alice Walker
It follows the adolescence and adulthood of a poor African-American woman in Georgia in the 1930s, explaining the challenges of the time and the importance of giving voice to the marginalized in society.
94. Infinite Jest by David Foster Wallace
It is a polarizing examination of the pursuit of happiness in America told through the lens of an addict's halfway house and a tennis academy.
95. Leaves of Grass by Walt Whitman
Though self-indulgent, it is a foundational work in the field of poetry and important for every American to read.
96. The Importance of Being Earnest by Oscar Wilde
It is a comedic play about nothing at all, examining society through misinformation, puns, and the social rigidity of Victorian society.
97. Oranges are Not the Only Fruit by Jeanette Winterson
It is the story of an adopted girl who leaves home for the woman she loves, giving insight not only into the romance of life, but the obstacles that must be overcome to get to it.
98. A Room of One's Own by Virginia Woolf
Though focused on the lives of women writers, reminds readers to carve out a space of their own for themselves and for their work, whatever it may be.
99. Native Son by Richard Wright
Set in the 1930s, it is the story of a black Chicago man who accidentally kills a white woman, using his inevitable fate to paint a poignant picture of race and life in the inner city that resonates just as true today as it did when it was written.
100. The Book Thief by Markus Zusak
It tells the story of a young girl who hides from the Nazis during World War II and manages to rescue literature to preserve some semblance of culture in the midst of the terrors of war.
Place Order Now