Synthesis Essay Outline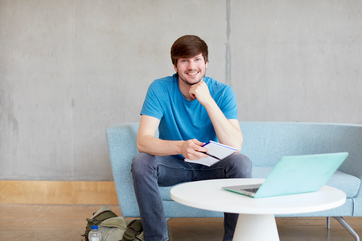 A synthesis essay is one of the most engaging types of essays that a student needs to write. It involves picking ideas from a variety of sources, summarizing them and creating a cohesive synthesis essay that focuses on a thesis statement. It interweaves information based on a topic and relevance to assert a particular opinion or point of view. The student needs to examine various sources and identify suitable relationships with the thesis. The most important aspect of the synthesis essay is to demonstrate to the reader an extensive understanding of information within the topic. Therefore, extensive research is a prerequisite for a well-written synthesis essay. Synthesis also involves a great deal of reflection. The author not only needs to rephrase and summarize the sources of information but also to put down what he makes out of its. To pen a good paper requires a proper synthesis essay outline to guide you through the process of writing. It maintains the structure of your synthesis paper.
Writing a good synthesis essay outline involves several aspects:
One is an innate understanding of the topic. It is impossible to analyze or give an opinion on a subject that you do not know of. Familiarize yourself with the topic. Before you begin to write a synthesis essay, identify all the points that you wish to discuss. Conduct an appraisal and identify those that are most relevant.


Two, you need to do an extensive research. It will help you build on the synthesis topic and diversify your knowledge giving you a better point of view.


Three is arranging your thoughts and topics. Create a consistent and coherent flow of your thoughts. The transition from one line of thought to another skillfully, such that the reader does not lose track of what you want to communicate. Consider that most analyses will be complicated. Therefore, use your words and phrases to arrange the details you wish to discuss in the synthesis paper in order to make it easier for the reader to comprehend the target point.


Lastly, is keeping track of your sources. In both synthesis essays and critical synthesis essays you conduct lots of research to ensure that your paper contains authentic and provable facts. You need to review quite many books, journals and research articles to get the most credible and evidence based facts. It is important to remember that each one of your sources of information needs to be cited accordingly and therefore your work does not become plagiarized.
While the above aspects are necessary to follow while writing an outline for synthesis essay, the most critical activity is understanding the structure of a synthesis paper.
The structure of the synthesis essay has three major parts:
Introduction
This is where you introduce a topic of your synthesis paper. Give a brief description of the subject matter and its relevance. In a few lines, offer the background of the problem. It is in this paragraph that you state the purpose of the synthesis essay. Make the reader understand why they should review your work. Last and most importantly, formulate the thesis statement. This brief and concise statement summarizes the whole agenda of the synthesis paper.
Body
This section has three main parts.
1) Target point: The topic statement describes the idea you will discuss in the paragraph.
2) Evidence: it justifies the main idea of the paragraph and invokes relevant facts and data that will strengthen the argument.
3) Conclusion: it relates the evidence and the target point. It details relevance of these two facts to the overall topic of the synthesis essay.
Conclusion
At this point, you wrap up your synthesis paper. It is primal that the thesis statement is reiterated using different terms or paraphrases. This paragraph envelopes all the arguments that you have presented. Restate each of the facts albeit summarily.
SYNTHESIS ESSAY OUTLINE EXAMPLE
Topic: Ineffectiveness of the executive order on immigration policy
Introduction
Hook the reader.
Provide background information on the executive order of immigration.
Explain why the ban is contentious in America.
Submit the thesis statement. Despite the necessity of the executive order, it is insufficient and therefore should not be implemented.
Body
Concessions and Refutation
Give a brief summary of your point of view and arguments against it too.
From past events, there has been a need for the U.S. federal government to act to provide policies on immigration in the country, but the measures that they have taken are inadequate. However, they are those that feel that this order is well overdue because (continue)
Refutation
Topic sentence:
Give a reason contrary to your thesis statement.
Provide evidence to support this idea.
State why it is invalid.
Provide counter facts and explain why it is not a strong argument.
Provide a conclusion and final comments on the matter.
Support 1
State the least important reason that supports your thesis.
Put down the topic statement leading up to your idea.
Quote one of your sources.
Provide evidence backing your idea.
Comment on your evidence and why it is relevant to the reader.
Conclude your paragraph by summing up all the key concepts that were in your topic statement.
Support 2
Put down the second most important reason in support of your thesis.
Choose a fitting topic sentence.
Embed facts and concepts that support your point of view and comment on them.
Provide a conclusion being mindful of the topic statement and the evidence.
Support 3
State your most important reason for informing your thesis.
Capitalize on the topic statement to present a strong case.
Quote several of your sources and make a commentary.
Provide evidence that backs your statement and comment on why it is relevant.
Provide a conclusion summing up all the facts.
Conclusion
Make a summary of all the facts and key concepts that you intended to deliver.
Restate the thesis either paraphrased or in different terms without changing its meaning.
Sum up your argument and provide a relevant example.
Include a call to action from an ethical standpoint. Persuade the readers why your point of view is the most valid.
Other tips to remember while writing a synthesis paper:
Organize the information in such a way that it becomes easy to see the main ideas that have been discussed.


Acknowledge all of your sources, both primary and secondary, to avoid plagiarism. Use the appropriate citation format. List them down as you write your synthesis essay outline.


Use the standard language for the topic of your synthesis essay. Write down the technical terms and concepts you wish to express.
To conclude, an effective synthesis essay rests on understanding the topic, being diligent in research and effectively structuring the essay. Moreover, it is important to manipulate language to connect your thoughts and ideas. A well-defined outline for synthesis essay is the ultimate blueprint for a properly written paper. 
An effective synthesis essay rests on understanding the topic, being diligent in research and effectively structuring the essay. Moreover, it is important to manipulate language to connect your thoughts and ideas.
Tweet This
Place Order Now