How to Write an Argumentative Essay Outline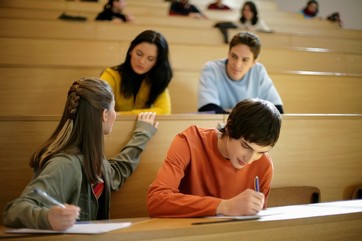 An argumentative essay is a type of essay which is based upon a given thesis and aims at supporting it with strong arguments. An interesting thing about argumentative essays is that they always include a point of view of an imaginable opponent, the view which should be rejected or disproved. You have probably seen a lot of discussions on internet forums, some parts of which remind exactly argumentative essays; they contain a strong position, arguments in favor of it, and also attempt to repudiate the opponent's view by referring to given data, statistics, experiments, interviews, and so forth. These pieces of discussions seem to be something like argumentative essays, although they do not adhere to all academic standards (a thing which is commonly met in internet discussions). Thus, you have some slight idea about how to write an argumentative essay outline.
An outline is not very different from an essay. The main difference between the two is in the fact that the former one merely manifests all the ideas of your paper concisely and in short form. Notwithstanding, an outline is a must when it comes to academic papers. It is simply impossible to rely on your inspiration and start writing without any preparation. Let's now see how to write an argumentative essay outline step by step.
1. Talk to your instructor
The first thing you need to do is to talk to your instructor or teacher about your assignment. You must be sure that you have understood your task very well. They will give you a topic (or you will pick one topic from the list), and then you can ask about some literature to read. Your instructor will help you to find some useful resources.
2. Get yourself familiar with the topic
Your argumentative essay will aim at proving a certain point of view and rejecting its counter-point. Therefore, what you have to do is to get yourself familiar with different standpoints related to the issue. You have probably formed your opinion, but the process of reading could modify it.
Read two or three monographs on the topic and take several titles of articles from their bibliographies. These articles will help you comprehend a problem better and find available solutions to it. Your bibliography should include at least ten titles, but it is recommended to go for more; fifteen or twenty will do better (including internet resources).
3. Note down your thoughts and insights
In brief, this is the stage (the only one!) when you can still rely on your inspiration. By writing anything that comes to your mind regarding the given issue you will be able to figure out your personal point of view, and this also will give you some food for thought. This is a kind of "brainstorming" process whose goal is to make you reflect deeper on the topic and to come up with some solutions.
4. Writing an outline
You should be prepared for your outline now. Its length could be of one page or a little bit longer. Presumably, your essay will be 10-15 pages long, so the outline cannot exceed two pages.
Be careful while elaborating the structure of the outline. This is the way in which your essay will be written. The outline can be divided into the following parts:
Here you can introduce your topic (one sentence).
Here you must set forth your point of view or thesis (the whole thesis).
Formulate the whole counter-thesis.
Arguments in favor of the thesis
Here you can write one sentence about each argument.
Critical assessment of the arguments
What flaws they have (in two or three sentences).
Repudiation of the counter-thesis (in one sentence) 
Conclusion (one sentence)
 A list of titles used while reading for the essay; it can be modified later.
Abstract (if your instructor requires such)
An argumentative essay outline can be divided into: Intro; Thesis; Counter-thesis; Arguments in favor of the thesis; Critical assessment of the arguments; Repudiation of the counter-thesis; Conclusion; Bibliography; Abstract (if required).
Tweet This
Writing an argumentative essay outline is an important part of the process of essay writing. Hence, do not underestimate your assignment and take it seriously. 
Place Order Now