How to Write a Journal Article Review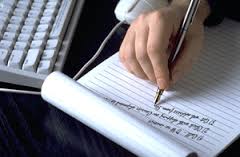 Journal articles oftentimes seem boring and "too specialized." However strange it may be, precisely, articles in scientific journals are what makes science advance. Like the small bricks building a big and solid house, articles contain important information readable only by specialists. To all other people they will seem too technical or not saying anything new. But the truth is the opposite: all discoveries in science first find their proper place in journals, and not in books. Thus, your assignment is more than difficult, for you need to be (really) very good in your field. But this should not shock you; everyone has to write reviews for the first time.
Journal Article Review - main goal
The main goal of your review is to present and elucidate the information available in the article. In contrast with a book review, here you need to speak more about the contents of the article rather than its form and structure. Therefore, writing a journal article review requires comprehensive knowledge on the particular subject as well as excellent skills for presenting information.
Of course, the article reviewed by you could cover a wide range of topics; for instance, in the sphere of politics, economy, religions, science, education, and so forth. What we are going to speak about here are specialized journal articles.
How to write a journal article review – 6 important tips
1. Gather some information about the author/s of the article
Gather such information as: their academic interests and achievements, awards and prizes won, particular conception, theory or doctrine they adhere to, books and articles published, etc. When you know more about the author/s, you will be able to understand their point of view better, area of research and hypothesis exposed in the article in question. It is also not a bad idea to find more info about the particular journal, especially when it is related to Humanities; political, sociological and philosophical journals belong to different schools of thought. In philosophy, for instance, there are journals critical to analytical philosophy, and sympathetic for European continental philosophy, and vice versa.
2. Research the subject of the article
Probably, you are not very familiar with the particular topic, aren't you? Then you should read more about it, keeping particular theoretical framework of the author (see the previous paragraph) in mind. Try to understand how important the issue is and how it is received in the academic community. If you don't understand it well, then read other articles by the same author/s; this will definitely help you.
3. Present the information available in the article
The key elements you should pay attention to are the following:
topic and area of research;
methodology of research;
place and time framework of the experiment (if this is a science article);
main hypothesis or thesis (in science the hypothesis is formulated in the beginning);
theoretical framework, theory, or doctrine the author/s adhere/s to.
key arguments or proof; you should list them one by one. Describe them in short;
phenomenon or process observed; describe it together with the results of the experiment.
All these descriptions should not exceed one-third of the review. As a matter of fact, they need to be presented only. The more important task is to explain them, as well as to assess their value and contribution to academic knowledge.
4. Explain the article's main idea
The article turns around one main thesis. If you have understood it well, the elucidation of the idea will be an easy task for you. Even if you are not pretty sure that you have got the idea and the intentions of the author, you could share your own observations. 
5. Assess the article
Is it worth reading the article? Does it have any academic value? What are its weaknesses and flaws? What are its advantages and contributions? You should set forth your assessment of the article within a few paragraphs.
6. Revise your review
Search for consistency and correct presentation of information.
Whether you know how to write a journal article review or not, this is a task demanding a lot of efforts and reading from you. Such an assignment should not be underestimated, so plan your work well in advance. 
Do you need help with writing a journal article review? 
Place Order Now