How to Write a Comparison Essay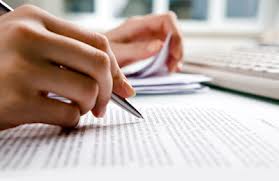 As the name implies, a comparison essay requires you to compare two or more things. It is more on discussing the similarities between two places, concepts, people, things, facts, or events. Most of the time, the purpose for the writer is to find the most significant similarity or difference, and win the readers over the benefits of one concept, person, or thing. While in some cases, it is just simply written to give insight or amusement to the readers. You can also tackle both the similarities and differences, depending on how you are going to show the comparison. So below, there are a few steps on how to write a comparison essay.
How To: Comparison Essay Writing
Step 1
Do a research in order to have a good background on the things you are about to compare as the subjects of your essay. Analyze both the similarities and the differences for the comparison to be easier, and find out which are more significant – either the similarities or the differences.
Step 2
Before starting to write, decide on how you are going to present the comparison of your subjects. It will be easier to tackle the similarities only or the differences only, but you can also discuss both.
Step 3
In the introduction, start by pointing out the less significant details and leave more important details on the following paragraphs. Just make sure that the points of your comparison are clear to the readers – which points you are going to examine and which points will not be covered. Clarify what you have preferred and state the significance of the subjects under comparison.
Step 4
It is important to organize the details in the body of your essay to have a good transition in between paragraphs. You can devote one paragraph each for every aspect of your subjects that you are comparing, until all the aspects are completely discussed. You can also alternately talk about the different aspects of your subjects, paragraph by paragraph.
Step 5
Briefly summarize the most significant similarities and differences of your subjects in the conclusion. Your essay should be ended by stating the importance of your comparison, and must also include your personal statement. Make sure that your readers will gain something in the end. It will also help emphasize one similarity before closing the essay.
Step 6 
Allocate enough time to revise your essay so that when you proofread, you will not be pressured upon finding the problems and fixing the errors. Or ask someone to read your work and look for the errors.
Before writing a comparison essay, it's worth knowing both sides of what you are comparing. In this way, it will be easier for you to do the comparison and will also be easier for the readers to keep track of the flow of your essay. Remember to keep the readers interested and always make the purpose of your essay clear.
Place Order Now