How to Write a College Entrance Essay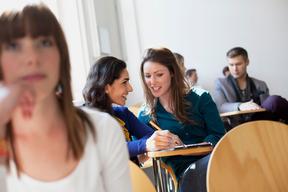 Plenty of young people applying for college are convinced that writing a college entrance essay is amongst most difficult essays. These young applicants are used to writing essays as special assignments given by a particular teacher. When you have to write an essay on a popular topic, say poverty, social exclusion, or gender equality, it is very easy to gather the necessary information and start writing. But when you need to be creative, and what is more important, to convince the admission committee in your excellent skills and comprehensive knowledge, then it becomes a problem for a person. You can ask yourself: how to write a college entrance essay in such a way that the committee would be able to see the best of your personal traits and professional skills and knowledge?
There isn't a strictly defined formula for this. You should rather search for sample essays, for some opinions of teachers and counselors, and last but not least, listen to your inner voice. You should be honest, accurate and be able to show your goal-directedness. This is what can bring you success.
How to write a college entrance essay – 10 vital tips
1. Get yourself oriented
You should search for information about an appropriate college and program. Try to narrow down your choice in order to apply for college which is more likely to enroll you (check the admission criteria).
2. Talk to your counselor/teacher
They will give you some useful advice. Talking with your parents is also important, but their vision of the things is always distorted; most parents prefer their children to have the same education and career like theirs.
3. Start preparing for the application at least one year prior to the deadline
Time, you know, is important. You need some time to consult your teachers, ask for recommendation letters, improve your school grades, pass additional exams (TOEFL, etc.), write your entrance essay and CV, submit the documents (which also may take time), etc.
4. Write a short outline of the essay
Include the following personal information: your personal motto, your motivation to apply (in two sentences), your achievements (list them), personal traits (list them), planned career (two or three sentences). When something comes to your mind, add it to the information already presented in the outline.
5. Start the essay with your personal motto
Then explain it. Tell a little bit about yourself: your biography, family background, or a problem which you focus your attention on a lot. There could be various approaches here, so choose what suits you.
6. Tell about your achievements
Describe your achievements at school, extra-curricular activities, etc. Here you can include awards, certificates, sport competitions won, and so forth. Make sure you have all the documents to certify your achievements.
7. Tell about your motivation
Why do you want to apply for a particular program? What do you know about the particular college? We recommend you to make preliminary research of the particular college in order to gain more knowledge about what it is famous for, what academic fields are developed there, and so on.
8. Tell about your career plans
What kind of profession do you pursue? How studying at this college will help you achieve your goal? Here you can also include various activities you would like to be involved in during the time of study such as conferences and seminars, research, sport activities, etc.
9. Revise the essay wisely
Check carefully its grammar, punctuation, style and coherence.
10. Attach additional documents
If you have any certificates or awards, you can attach them to your application.
Be careful: ask the admission department whether you are allowed to attach any additional documents.
You should know that even an excellent college entrance essay sometimes will not suffice for you to be enrolled in your favorite Bachelor program. There are many criteria which admission committees should adhere to. In all cases, you shouldn't give up and always try over and over again. Never stop pursuing your dream career!
Place Order Now