How to Write a Character Analysis Essay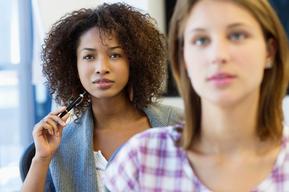 Often schools and colleges ask their students to write a character analysis essay, which might be based on a novel, short story, drama or any other kind of literary work. The aim of writing a character analysis essay is to highlight the character and analyze it according to your own perspectives. For example, if you read about a bad character in a novel or short story, you are filled with negative thoughts about that particular character. If given a chance, you will all probably say nasty things about the character as you don't like the character due to the negative role played by it in the story or novel. In doing the analysis, you are making a detailed observation of the character and also giving your own interpretation of the character based on what you have observed or noticed. When you are writing a character analysis essay, you are not just making an analysis of the character(s) alone, you are also developing that character by revealing the details of the character, like what the character is doing, what it is thinking about, how it reacts to other characters and situations, etc.
While writing a character analysis essay you are making a critical view of the character which you have chosen in your work and you can turn an antagonist into a protagonist or vice versa if you don't study your character too well. However, whatever kind of the character you choose to portray in your essay, you must not forget to link the evidence to the main work from where the character has been derived. This is because without referring to the evidence, say a novel or drama, you won't be able to support your views on the character.
How to Write a Character Analysis Essay
You must take note of the following steps before writing your character analysis essay, as they will guide you effectively in coming up with a great paper:
Note all the details of the character, which you have identified for making an analysis essay. Try to identify the traits and qualities of the character. They might not always be obviously visible, but hidden in obscurity. Try to find hidden messages and meanings from the words. They will help you a lot in understanding the details of your character.
After you have made a detailed observation of your character, you need to write a single sentence, which sums up your character. You may think this as a thesis sentence for your character analysis essay as it would be the guiding sentence for your essay.
Now try to make small points about your character based on your thesis sentence. Like what he or she dresses like, how he or she behaves with others; what is the general mood, disposition, nature of your character; how the character behaves and acts in certain situations and conditions; is the character having some extraordinary qualities and so on. 
Once you have noted all the qualities and attributes of your character, you should start writing the main essay and try to divide it into at least three main sections: the introduction, the main body and the conclusion.
Once you have identified the different sections of your essay, you can start writing on it. While writing an essay, keep in mind the points you have noted for your character and support your analysis by referring to it with effective quotes and examples from the main source. This main source could be a novel, drama, short story, poetry, or any other piece of literary, artistic work, which you have studied for making the analysis. 
End the essay with a small conclusion about your interpretation about the character and why the character behaved or acted in that way. You can praise the character, condemn the character, do anything you like in the conclusion part but it should be in line with your main body. You can't condemn or criticize a character in the conclusion if you have praised him or her in the main body of your essay. 
Once you have finished writing your character analysis essay, don't forget to proofread it for spelling and grammatical errors. You may even show your essay to your friends or your parents so that they can provide you with proper feedback before you give it to your teachers for final assessment. If you follow the above steps, you would be able to make a better character analysis essay. 
Place Order Now