Capstone Project – Essential Capstone Project Guidelines for Students
What is a capstone project?
So, what is capstone? A capstone project is done by a candidate at the end of their degree. It is a summary of the main learnings from throughout the course or it can be an in-depth exploration of one or more areas from a program that was studied.
Capstone projects should demonstrate the skills learned from different topics in the course and indicate the candidate's understanding of the subject matter. The college capstone project must propose an issue and give solutions for solving the problem.
What are the steps when writing the capstone?
The first thing you need to do is review and make a list of all the courses, research papers, essays, projects and exams you did since the beginning of your degree.
Expand on this by writing a brief description of each.
As the capstone assignment is a research paper, it is important to have all your research papers on hand. Next, now you will need to choose a topic and have it approved by your instructor. Make sure it is worded so that it takes into consideration as much of your previous work as possible.
Just as any research paper, make sure you have relevant and up-to-date references whether they are articles, books, websites or journals.
You will need a lot of time to read and review all the materials for the capstone; this includes previous and new sources. Make sure you take adequate notes, as you will need this when writing the capstone research project.
Use your notes and any revised or new materials to draft the college capstone project. New materials will give a different perspective to the previously reported materials.
Start your capstone paper by writing the introduction and conclusion first. This will enable you to craft a good capstone thesis statement for your project.
How do you select a topic for your capstone paper?
When selecting your capstone topic, choose one that you are passionate about and comfortable with. Also, make sure it is one that you will be able to find sufficient (new) information on to supplement your previous research. Make sure your chosen capstone project topic is one that has practical and scientific relevance, thus enabling your research to contribute to knowledge in this field.
Points to consider when writing a capstone project
Your capstone project should be at least 45 pages in length with an adequate amount of references, about 12 – 14 sources.
As it is similar to a thesis, make sure you include the table of contents, abstract, reference list and title page. Feel free to use a software program to organize your references and any other section of the project deemed necessary.
Capstone project can be a lengthy and time-consuming one so plan your time accordingly and ensure you submit prior to the deadline.
Your capstone project should be at least 45 pages in length with an adequate amount of references, about 12–14 sources.
Tweet This
Do's and Don'ts when writing a capstone project
Do's:
Make sure you choose the appropriate referencing style for your field of study/ department.
Keep a diary to keep track of all your notes and changes made throughout the writing of your capstone assignment.
Make sure you begin your capstone in an attention-grabbing way and end it on a high note that provides closure to the paper.
Make sure you use the appropriate grammar, syntax, punctuation, etc.
Don'ts
Don't leave out any important details.
Don't forget that the purpose of the capstone project is to demonstrate the knowledge gained during the course.
Common mistakes made when writing a capstone research project
Rushing the capstone research project
 Trying to squeeze everything into a short period of time and sacrificing the quality of the paper.
Don't rephrase or paraphrase sentences unnecessarily to add fluff to the piece or increase the word count. This will result in a low quality paper. 
Do not copy and paste but rather paraphrase accordingly and make sure to give the appropriate references. 
The capstone research project is extensive and time-consuming so it is easy to get bored with mundane tasks and get distracted. Try not to lose focus as this may result in costly delays. Additionally, sometimes students include so much information that they lose the main points/ focus of the topic. Try to avoid this to avoid delays.
Not gathering and recording your data in an organized manner may cause delays. Try to avoid this.
It is not enough to simply state information from your sources but you must also critically analyze and elaborate on each point.
Remember that your capstone research project will be kept by the university for future candidates to review so make sure you put forward your best and most analytical work. Make sure you answer your question thoroughly by reading, summarizing and analyzing your sources properly.
Framework and guidelines for writing a capstone project
Your capstone project framework must fulfil the following characteristics: 
Read widely and analyze the materials to gain a deep understanding of your capstone topic. Make sure you determine and articulate your own viewpoint on the topic and make your conclusions. Make sure it expresses your creativity and originality. 
While you will have a mentor or instructor, the capstone project is an individual assignment and should be carried out by you alone. 
As the capstone project can be equated to a six-credit course, it is important that you plan to spend the requisite amount of time and energy on completing it. Keep it within a limited, focused and realistic scope, as it must be completed within one semester. 
Orderly and objective process of inquiry
The Capstone project tests your ability to operate within the methods of inquiry. As such, you will have to demonstrate how well you ask appropriate questions, create ideas, identify sources of information, adequately use information, make conclusions, support these conclusions and solve problems using the requisite tools. 
The Capstone Project should make you extend yourself and your intellectual capability, allowing you to learn, grow and expand your knowledge to greater levels. 
Capstone Project Guidelines
In addition to the above framework, here are some capstone project guidelines to review and keep in mind for your Capstone Project. 
1. It may take two semesters to complete the capstone. You will develop and get approval from your mentor and instructor for the Capstone Proposal in Capstone I, done in semester 1. Capstone II is done in the second semester. You will receive a separate grade for each of these sections, both of which must be a 'C' (2.0 GPA) or above.
2. You must enroll for Capstone I between the second to last and third to last semesters prior to graduation. Your mentor must be approved before your enrollment for Capstone I.
3. You must submit two (2) bounded/covered copies of your capstone paper and one electronic copy. One of these will be graded and returned to you while the others are added to the library of Capstone Projects.
4. Each candidate must conduct a presentation of their Capstone Project to an audience consisting of faculty and other students. This is not graded separately.
The Capstone Project Process
Capstone Project Proposal
Along with the Research Methods instructor, the candidate will review options for a capstone advisor and discuss possible topics and drafting the proposal. Once the advisor is chosen and has agreed to participate, the candidate will move forward with the writing of the capstone proposal. The capstone proposal is a document, several paragraphs long, that outlines the basis of your capstone project. The capstone project proposal is done to articulate your research project, outline how you will carry out the project in a timely manner and explain, clearly and concisely, what you will study, the question you will answer, the problem you will address and your solutions.
How to complete your capstone project – 8 major steps
To complete your capstone project, here are a few steps you must take:
 Choose your mentor and advisor.
 
Discuss and agree on the capstone topic for the project.
 
Discuss and agree on the capstone project deliverables and timelines. Work with your advisor and mentor to create progress reports. The candidate must follow the guidelines of the department or university for completing capstone projects.
 
Draft your capstone project.
 
Use the referencing format stipulated by your department or university.
 
Have your advisor and a second reader review your project. Once approved, they will sign the approval form and submit it to the chair for further approval. Subsequent to this, the director will verify the candidate's good standing and determine approval.
 
If approved, the signatures of the chair and director signify that the candidate has completed the project and met the capstone requirements.
 
You have two years after the capstone project proposal approval to complete the capstone project. An extension of one year may be granted by the chair but further extensions must be brought to the Faculty Committee.
Capstone Project Cover Page Template
When a candidate completes their capstone project, a cove page is required. The capstone cover page must be signed and dated by the student and their advisor. An example of a cover page can be seen below.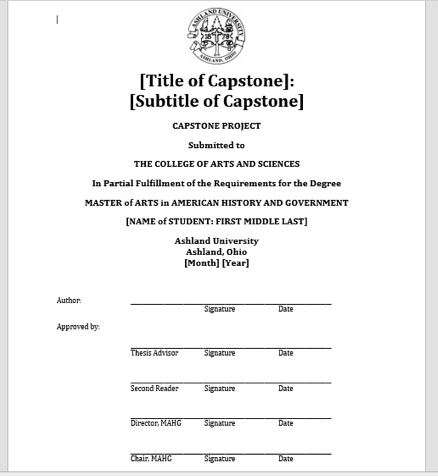 As seen above, the candidate needs to include information such as the title of the project, the name of the department and university and the year it was done along with the various required signatures.
Like all tertiary education research papers, the capstone is a major project to be undertaken by a candidate. As it demonstrates their critical thinking and analysis capabilities, it is in their best interest to carry out the capstone assignment with the seriousness and respect it deserves. This guideline is a thorough outline of how to effectively write a good capstone project. Read it carefully and follow the instructions given to guarantee a smooth process when writing your own project.
Do you need help with writing a capstone project? 
Place Order Now